Hot Honey Blueberry Cobbler
Posted In: Recipes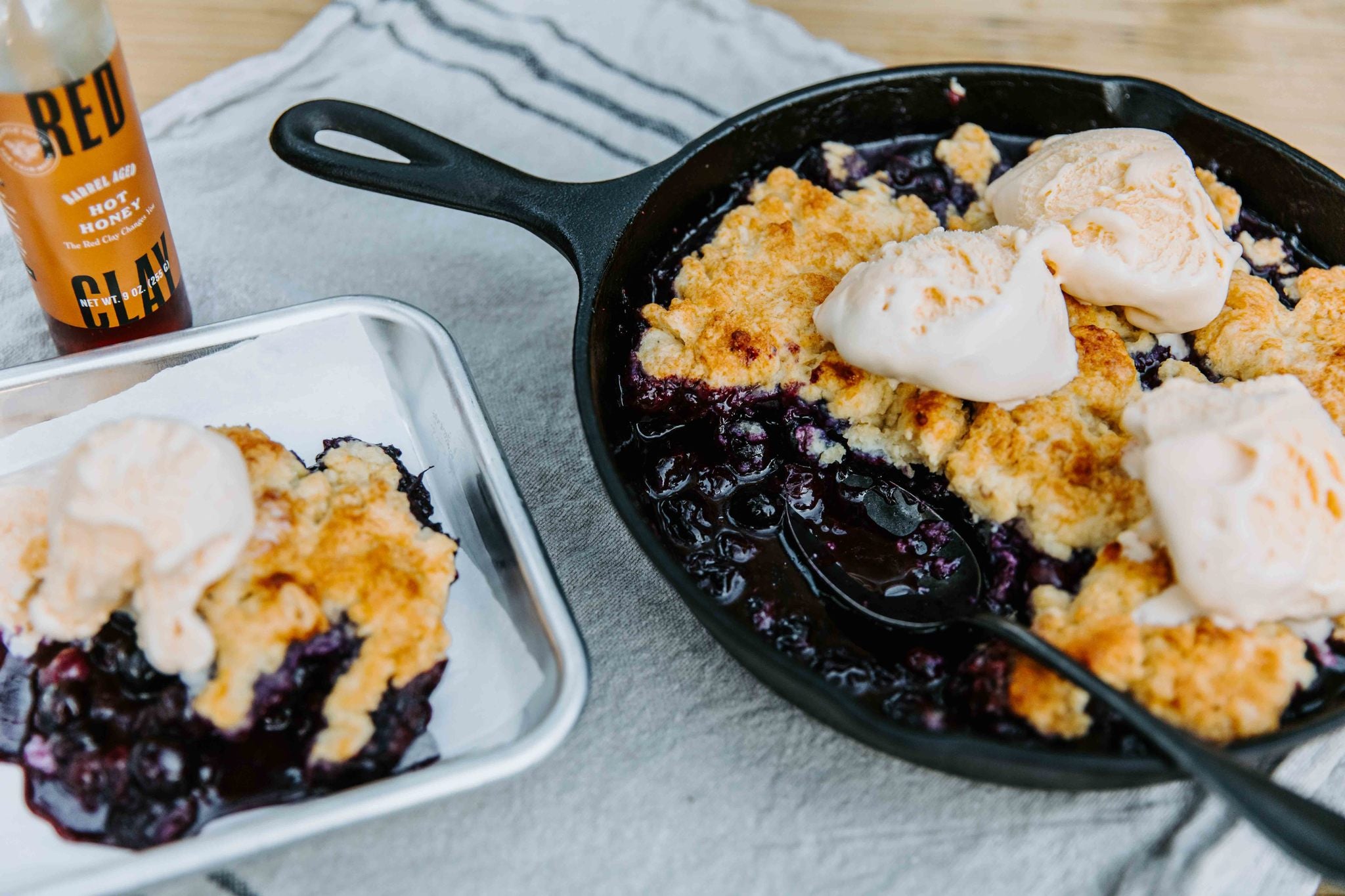 Ingredients
4 ½ cups fresh blueberries
⅓ cup Hot Honey
1 Tbsp corn startch (or all-purpose flour)
1 Tbsp lemon zest
1 ½ cups all-purpose flour
½ tsp kosher salt
1 ½ Tbsp sugar
2 ¼ tsp baking powder
6 Tbsp cold unsalted butter, cut into 1/2-inch pieces
¾ cup heavy cream
We're obsessed with incorporating our Hot Honey into just about every dessert we can. We don't care what time of year it'll be, you can probably still find us making this blueberry cobbler. 
Ingredients
4 ½ cups fresh blueberries
⅓ cup Hot Honey
1 Tbsp corn startch (or all-purpose flour)
1 Tbsp lemon zest
1 ½ cups all-purpose flour
½ tsp kosher salt
1 ½ Tbsp sugar
2 ¼ tsp baking powder
6 Tbsp cold unsalted butter, cut into 1/2-inch pieces
¾ cup heavy cream
Instructions
Heat the oven to 375 degrees. Mix the blueberries with honey, corn starch, and lemon zest in a bowl and set aside.
For the Dough: In a separate bowl, whisk flour, salt, sugar and baking powder together. Cut in the butter with a pasty cutter or fork until the mixture resembles a coarse meal. Add the cream and mix lightly, just until all of the ingredients are moist.
Spread the blueberries onto a 10-inch cast iron skillet. With your hands, make 5-7 rough patties with the dough, about 1/2-inch thick. Arrange patties over the top of the berries. Don't be afraid to use your fingers to lightly spread or rip the patties to cover most of the berries.
Bake until the dough is brown, about 35 to 40 minutes.
We suggest serving the cobbler warm with vanilla ice cream and a Hot Honey drizzle.
Adapted from Chez Pannisse's Blueberry Cobbler recipe