Leeks Vinaigrette
Posted In: Recipes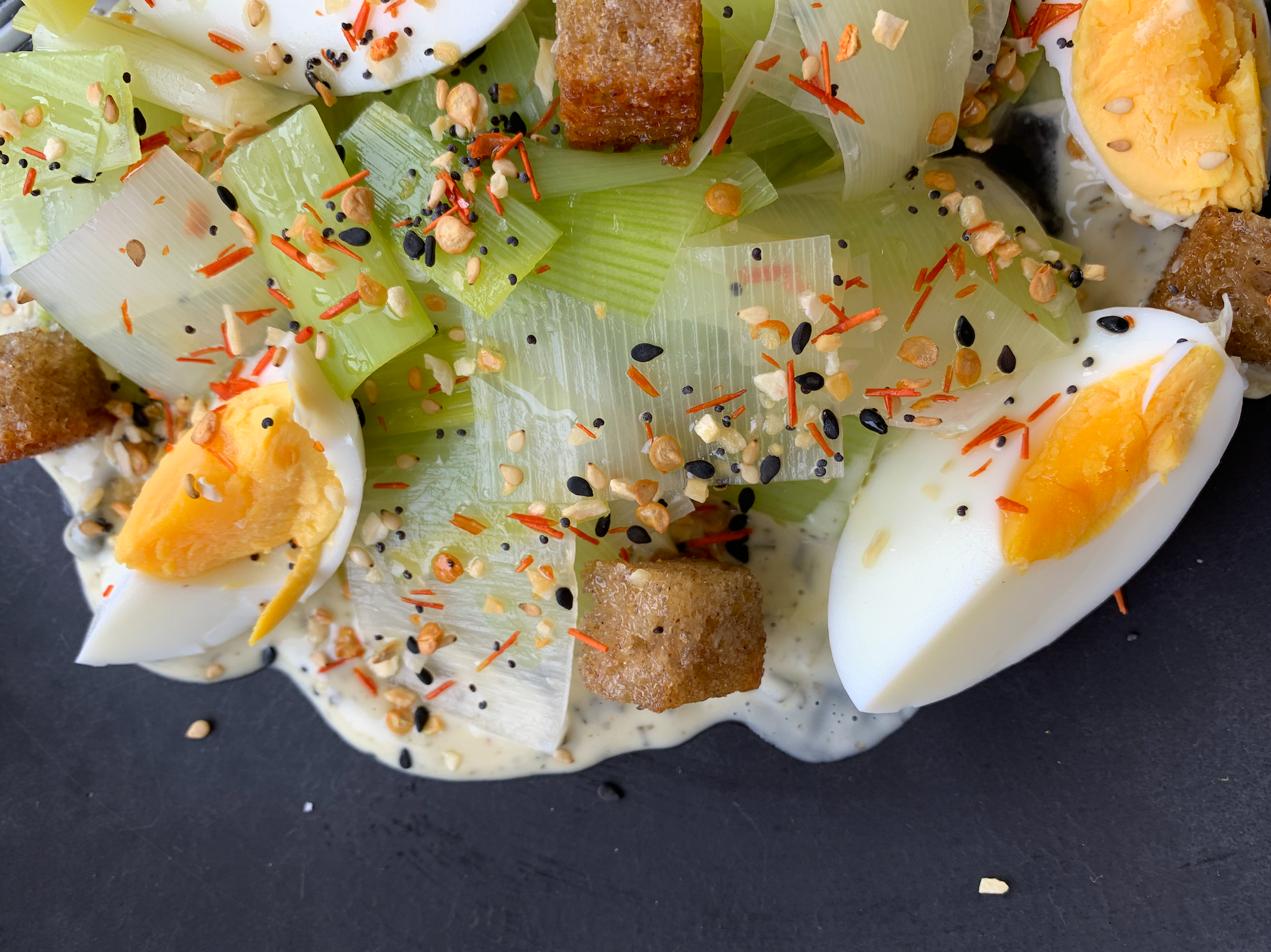 Ingredients
4 large leeks, cut into 1/2 inch slices
1 small shallot, finely chopped
1/2 garlic clove, finely grated
1 tablespoon Sherry vinegar
1 teaspon Dijon mustard
1 teaspoon whole grain mustard
1/2 teaspoon finely chopped fresh thyme
1/4 teaspoon sugar
1/4 cup olive oil
2 eggs, solf boiled and halved
Pinch of Spicy Everything Salt
Freshly ground black pepper
Rye bread, cut into 1/2 inch cubes
1/4 cup virgin olive oil
Pinch of salt
Whether you're serving this dish to guests over for a delicious summertime dinner, or making a quick & easy lunch for one, it's sure to satisfy all!
Ingredients
4 large leeks, cut into 1/2 inch slices
1 small shallot, finely chopped
1/2 garlic clove, finely grated
1 tablespoon Sherry vinegar
1 teaspon Dijon mustard
1 teaspoon whole grain mustard
1/2 teaspoon finely chopped fresh thyme
1/4 teaspoon sugar
1/4 cup olive oil
2 eggs, solf boiled and halved
Pinch of Spicy Everything Salt
Freshly ground black pepper
Rye bread, cut into 1/2 inch cubes
1/4 cup virgin olive oil
Pinch of salt
Instructions
For the leeks:
Trim root ends of the leeks and cook in a large pot of boiling water until tender, about 20 minutes. Transfer to a paper towel to drain and cool.
For the croutons:
Add cubed bread to a cast-iron skillet with olive oil. Let cook over medium heat until oil is absorbed and the cubes are crisped and slightly charred. Transfer to a paper towel.
For the vinaigrette:
Whisk shallot, garlic, vinegar, Dijon, whole grain mustard, thyme, and sugar in a small bowl. Gradually whisk in olive oil and 1 Tbsp water. Season with salt & pepper.
Arrange leeks on a dish platter and drizzle with vinaigrette. Top with sliced eggs and croutons. Add Spicy Everything Salt to taste and serve.