Herb Crusted Rack of Lamb with Red Clay Aioli
Posted In: Recipes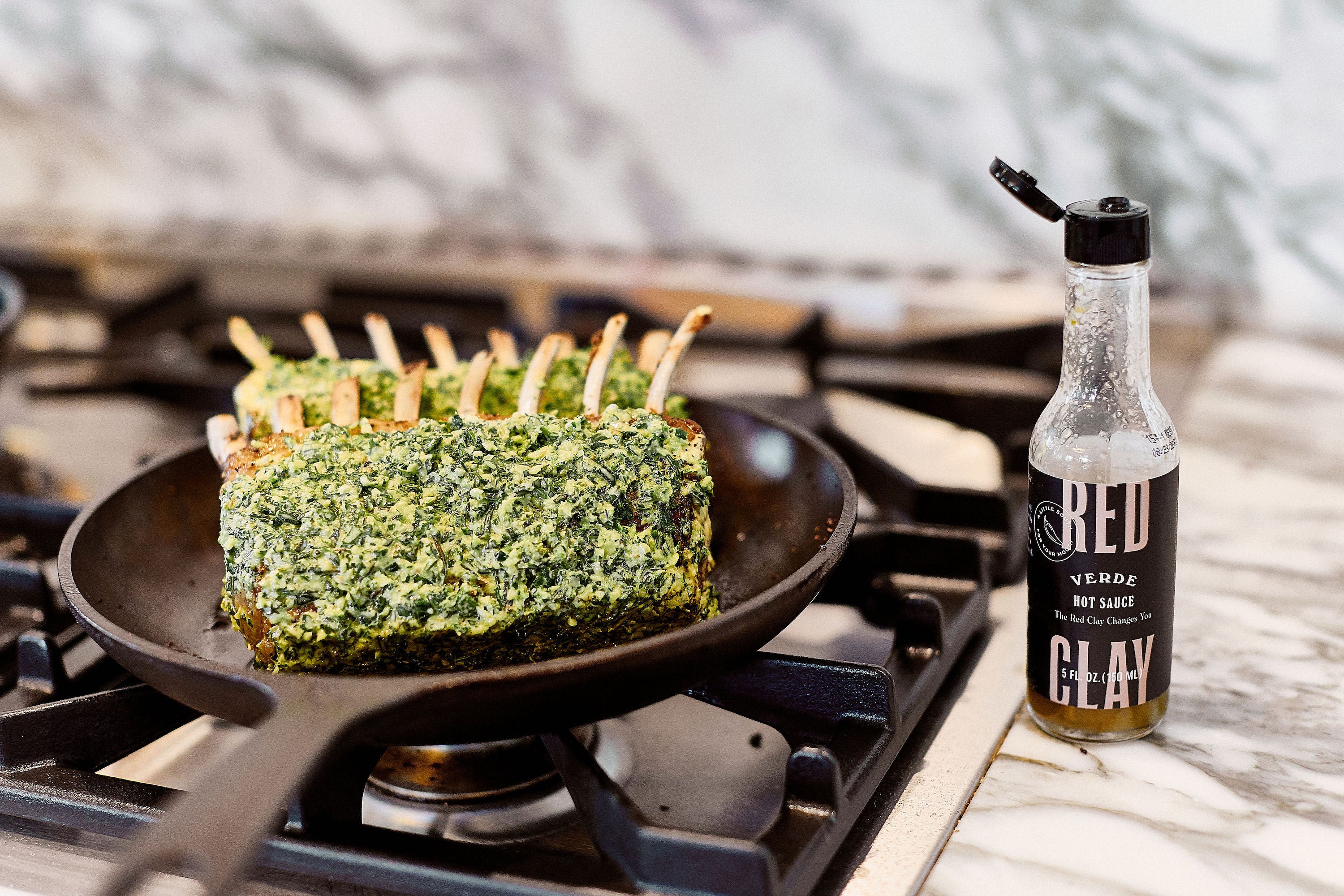 Ingredients
Rack of Lamb
Red Clay Verde Aioli
Mix together:
1/2 cup Dukes Mayo
1/2 cup of yellow mustard
1/4 cup of Red Clay Verde Hot Sauce
Pinch of kosher salt
Pinch of course ground black pepper
Herb Crust:
5 sprigs parsley
1 clove elephant garlic or 2 cloves regular garlic
15-20 basil leaves
1/8 cup olive oil
1/8 cup red clay hot sauce
Leaves from 10 sprigs of thyme
Leaves from 5 sprigs of rosemary
1 tbs course ground black pepper
When Master Chef Jamie Hough comes over to make lamb and a special Red Clay aioli, all there is to do is watch in awe... and taste test everything possible of course. Thank you Captain Jamie, these recipes are killer!!!
Ingredients
Rack of Lamb
Red Clay Verde Aioli
Mix together:
1/2 cup Dukes Mayo
1/2 cup of yellow mustard
1/4 cup of Red Clay Verde Hot Sauce
Pinch of kosher salt
Pinch of course ground black pepper
Herb Crust:
5 sprigs parsley
1 clove elephant garlic or 2 cloves regular garlic
15-20 basil leaves
1/8 cup olive oil
1/8 cup red clay hot sauce
Leaves from 10 sprigs of thyme
Leaves from 5 sprigs of rosemary
1 tbs course ground black pepper
Instructions
Lamb Rack:
Preheat oven to 350
Liberally coat with kosher salt and course ground pepper
Get a cast iron pan very hot and add a little grape seed oil
Place the Frenched rack into the pan and brown on all sides until fat is rendered.
(About 10 minutes)
Once the rack is browned, place on center rack in oven for 8 minutes
Remove and coat with the aioli
Liberally coat the aioli covered rack with the herb crust
Place back in the cast iron on the center rack for 6 more minutes
Let rest for 5-8 minutes before cutting
For the Herb Crust:
Put all ingredients into a food processor and blend thoroughly!