Summery Corn Salad
Posted In: Recipes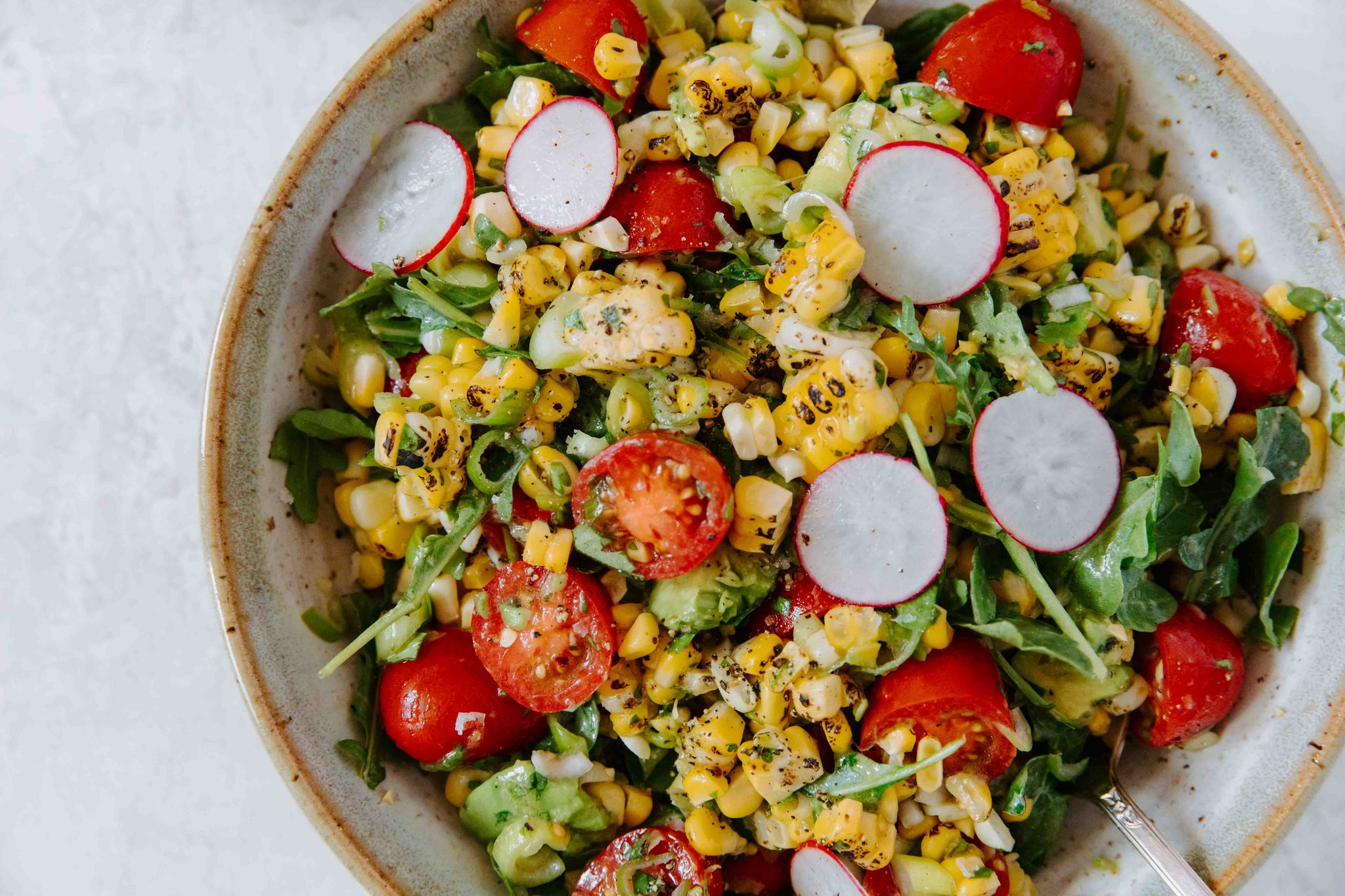 Ingredients
4 ears of sweet corn, uncooked
16 oz cherry or grape tomatoes
1 cup cilantro
3-4 green onions
1 avocado
3 Tbsp extra virgin olive oil
1/4 cup Red Clay Verde sauce
3/4 tsp sea salt (or more, to taste)
1/2 tsp fresh ground black pepper
1-2 cups arugula (optional)
sliced radishes to garnish
A delicious summery salad featuring grilled sweet corn, avocado, and tomato, and a Red Clay Verde dressing. Bring this to your next outdoor cookout, or add some extra arugula and cojita cheese to make it a whole meal! 
Ingredients
4 ears of sweet corn, uncooked
16 oz cherry or grape tomatoes
1 cup cilantro
3-4 green onions
1 avocado
3 Tbsp extra virgin olive oil
1/4 cup Red Clay Verde sauce
3/4 tsp sea salt (or more, to taste)
1/2 tsp fresh ground black pepper
1-2 cups arugula (optional)
sliced radishes to garnish
Instructions
Grill the corn until it's cooked and a little charred. If not using the grill, boil the corn in salted water for 4 minutes until cooked, and then place into an ice bath. Once cooled, slice the corn off the cob and into a bowl. Cut all tomatoes in half, roughly chop the cilantro, dice the avocado, and add to the bowl with corn. Slice the green onion thinly—white and green parts—and add to bowl.

For the dressing: In a small mason jar or bowl, whisk together olive oil, Verde sauce, salt, and pepper. Feel free to add more salt or Verde to taste!

When ready to serve, toss the salad with arugula and the dressing. Garnish with thinly sliced radishes, cilantro, cojita cheese, etc. Enjoy!