Baked Crab-cake with Blistered Okra, Grilled Lemon, and Red Clay Aioli
Posted In: Recipes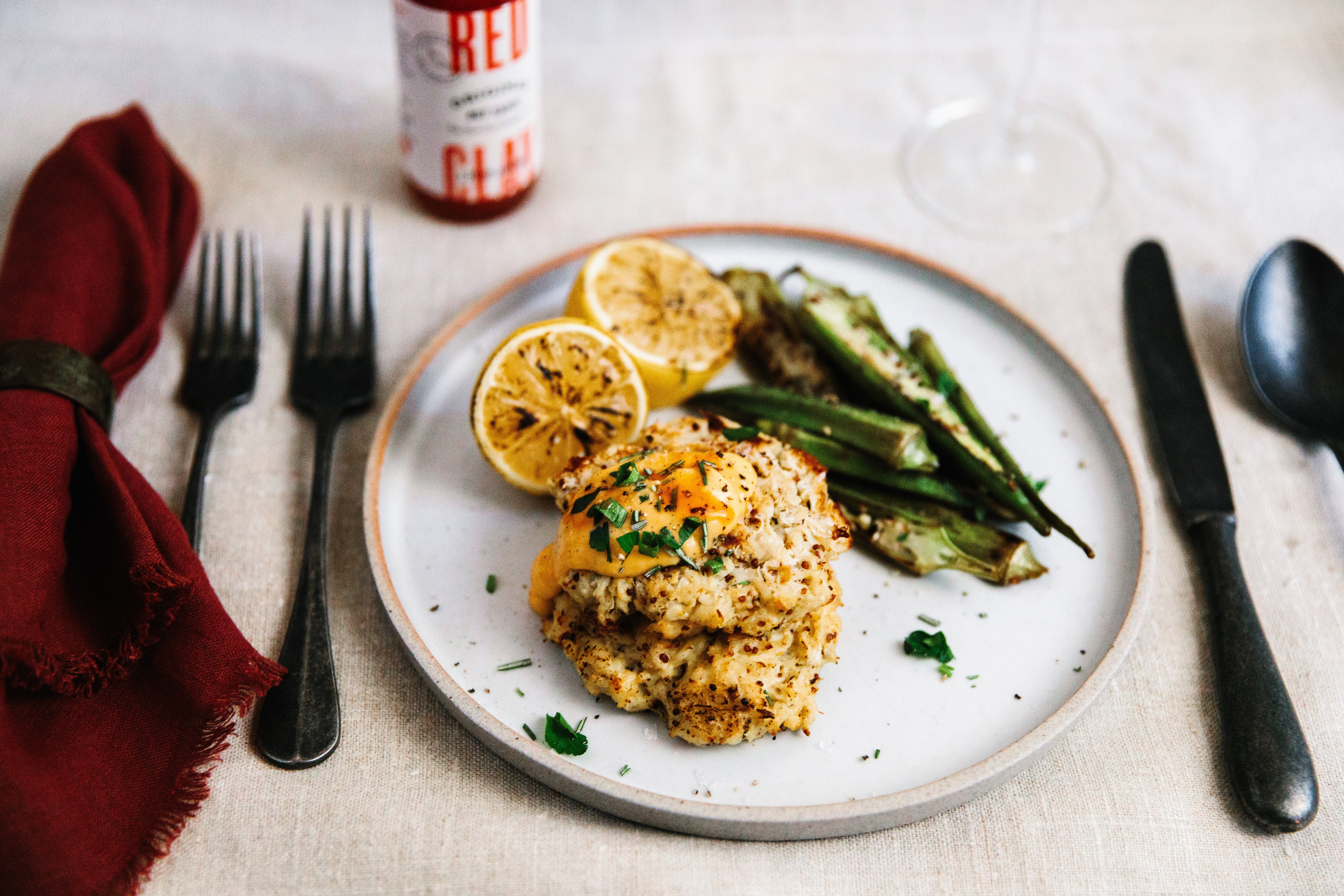 Ingredients
2 lb. Jumbo Lump Crabmeat
2 T Whole Grain Mustard)
1 egg
1 c Duke's mayo
For the Red Clay Aioli:
large egg yolk
½ teaspoon Dijon Mustard
1 clove fresh garlic
½ cup neutral oil (canola or preferably grapeseed)
1 oz Red Clay Original or Carolina Hot Sauce
2 t kosher salt
It can be hard to say no to a crab cake. Making them from scratch can sometimes be tricky too, so we've got an easy and insanely delicious recipe for you. This one is calling Red Clay's name! 
Ingredients
2 lb. Jumbo Lump Crabmeat
2 T Whole Grain Mustard)
1 egg
1 c Duke's mayo
For the Red Clay Aioli:
large egg yolk
½ teaspoon Dijon Mustard
1 clove fresh garlic
½ cup neutral oil (canola or preferably grapeseed)
1 oz Red Clay Original or Carolina Hot Sauce
2 t kosher salt
Instructions
Pick crab for shells, put in a pan, and place in cooler to dry for an hour. Mix wet ingredients. Gently fold in crab being careful to retain the meat's integrity. Mold and bake at 400 for 8 minutes
For the okra: Warm a cast iron pan over medium heat. Add oil and 1# whole okra with the stems gently trimmed. Blister okra while turning every 30-45 seconds until tender.
For the lemons: Heat the grill, and place cut lemons on the grates to gently char
For the Red Clay Aioli: Place the yolk in a bowl with the Dijon mustard, and microplane the garlic clove. Add salt. While vigorously whisking, gradually add in the oil being careful to keep the emulsification. Continue to whisk while incorporating Red Clay hot sauce.