Hot Yankee Cocktail
Posted In: Recipes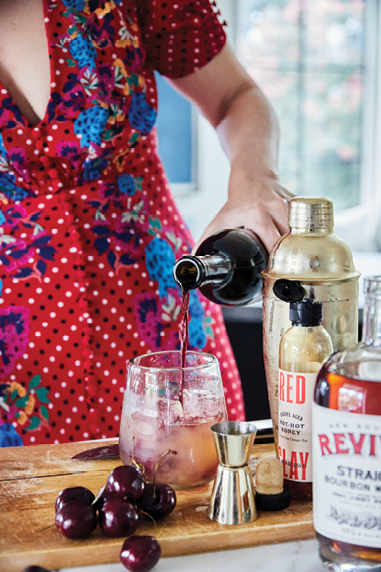 Ingredients
2 oz. High Wire bourbon
2 oz. fresh lemon juice
2 oz. Red Clay Hot Honey
1 oz. fruit-forward red wine, such as Chop Shop cabernet sauvignon
Fresh cherries, for garnish
Who can say no to giving this killer recipe a taste!? (If they do say no, send them our way...) This is Co-founder & CEO Molly Fienning's go-to take on a New York Sour. She adds Red Clay Hot Honey to give lil Southern kick to the classic.
Ingredients
2 oz. High Wire bourbon
2 oz. fresh lemon juice
2 oz. Red Clay Hot Honey
1 oz. fruit-forward red wine, such as Chop Shop cabernet sauvignon
Fresh cherries, for garnish
Instructions
Combine the first three ingredients in a cocktail shaker filled with ice.
Shake for 20 seconds (or until the shaker feels frosty) and strain into a rocks glass filled with large ice cubes.
Top with red wine and a few fresh cherries.
Recipe for Charleston Magazine, "A Saucy Celebration with Red Clay Hot Sauce." Photography by Peter Frank Edwards.