Red Clay Hot Chicken Sandwich
Posted In: Recipes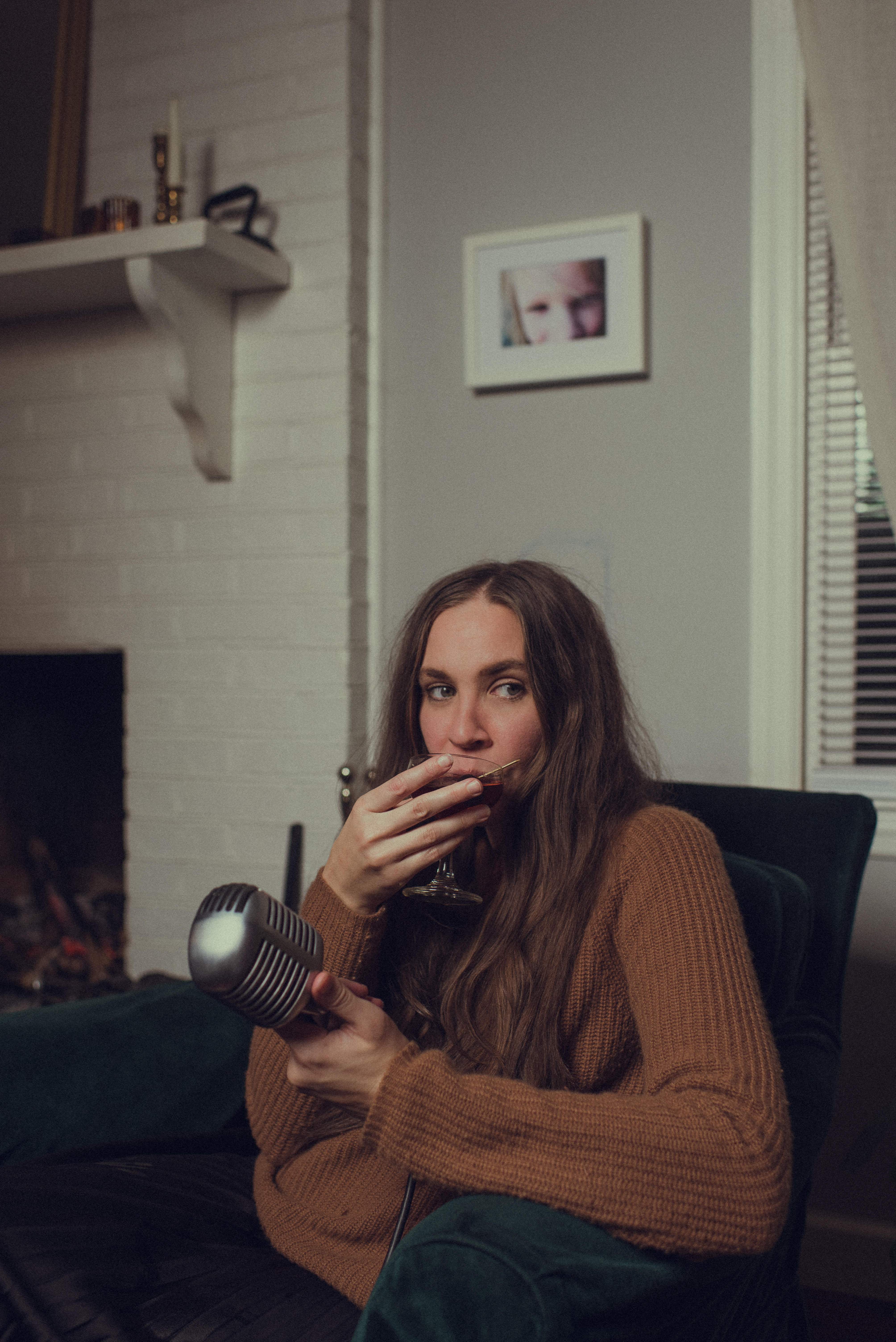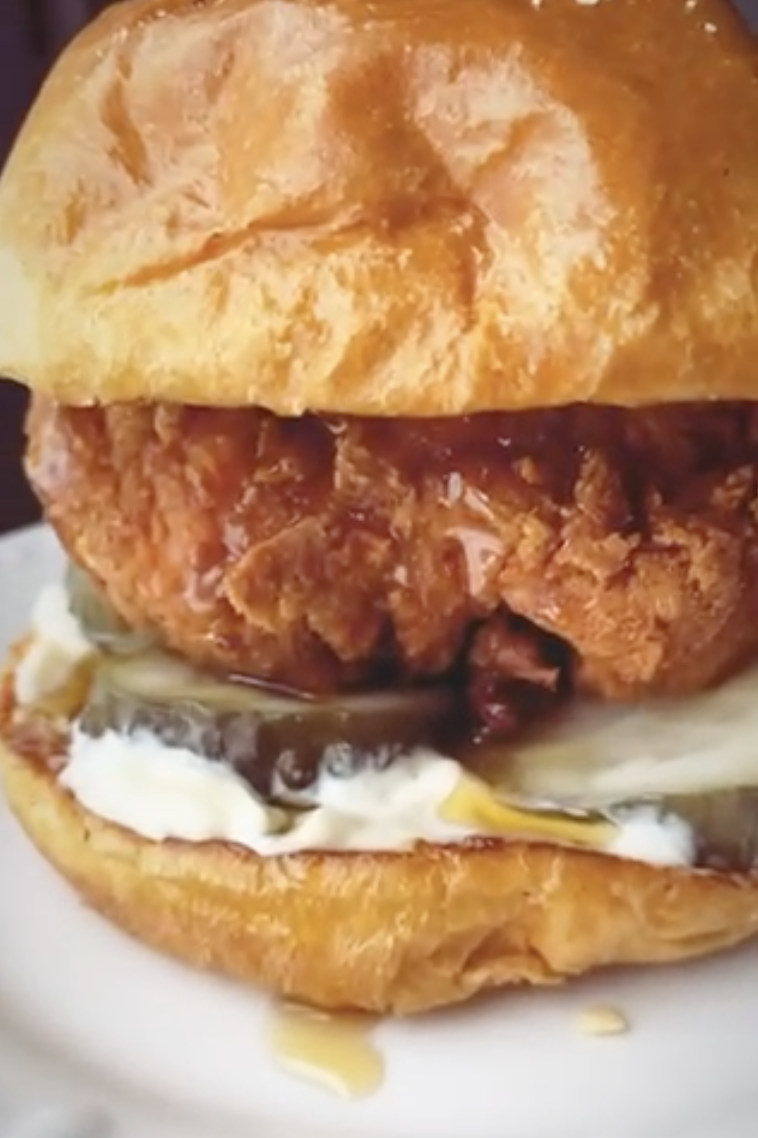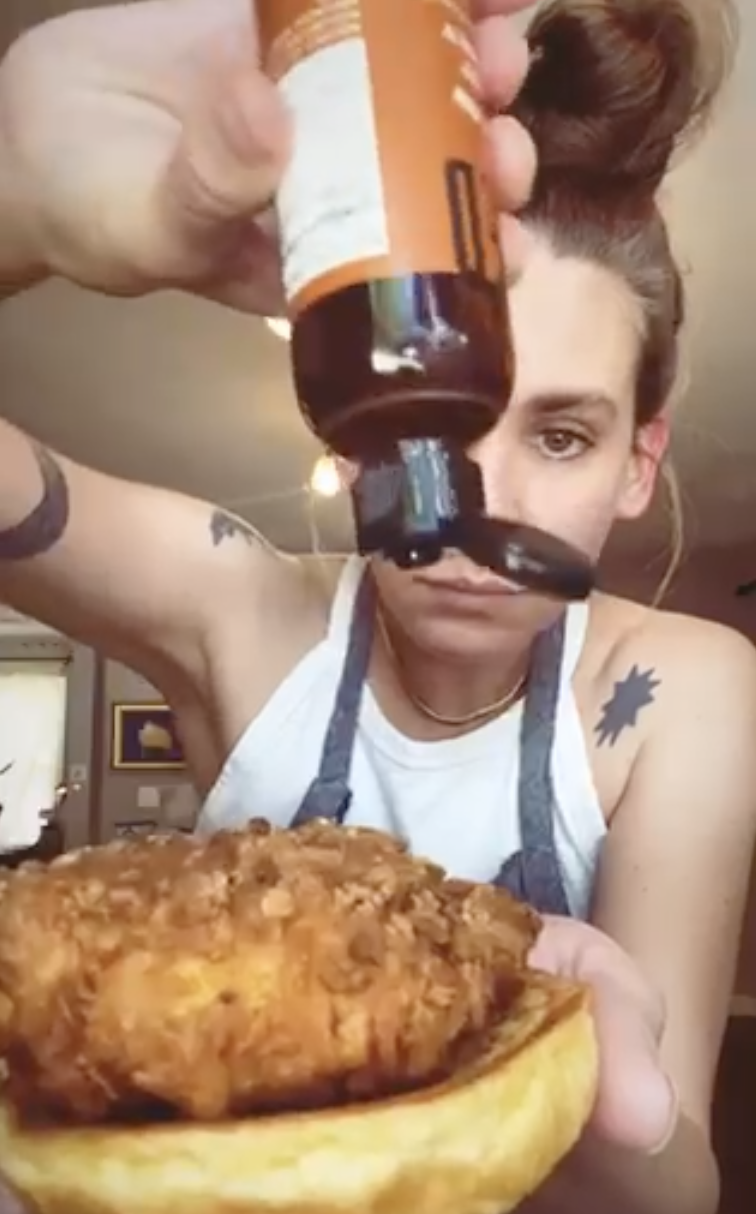 Ingredients
Chicken:
1 tablespoon Diamond Crystal or 1¾ teaspoons Morton kosher salt
1 teaspoon light brown sugar
1 teaspoon baking powder
4 Boneless/Skinless Chicken Breasts
Assembly:
1 1/2 cups all-purpose flour
1/3 cups cornstarch
1 tablespoon garlic powder
1 tablespoon onion powder
1 tablespoon paprika
2 teaspoons cayenne pepper
2 tablespoons Diamond Crystal or 3½ teaspoons Morton kosher salt, plus more
1 large egg, beaten to blend
1 cup buttermilk
3 tablespoons Red Clay Hot sauce; plus more for serving (optional)
Peanut or vegetable oil (for frying; about 8 cups)
8 Brioche buns
3 tablespoons unsalted butter, softened
Kosher Dill Chips
4 Tablespoons Red Clay Hot Honey
4 teaspoons Red Clay Everything Spice Salt
Lindsay Collins, the amazing and talented host of
Effin B Radio
, blessed us with the mouth-watering recipe for a Red Clay Hot Chicken Sandwich. This dish will be on rotation this summer, for sure. Try it yourself and thank us later!
Ingredients
Chicken:
1 tablespoon Diamond Crystal or 1¾ teaspoons Morton kosher salt
1 teaspoon light brown sugar
1 teaspoon baking powder
4 Boneless/Skinless Chicken Breasts
Assembly:
1 1/2 cups all-purpose flour
1/3 cups cornstarch
1 tablespoon garlic powder
1 tablespoon onion powder
1 tablespoon paprika
2 teaspoons cayenne pepper
2 tablespoons Diamond Crystal or 3½ teaspoons Morton kosher salt, plus more
1 large egg, beaten to blend
1 cup buttermilk
3 tablespoons Red Clay Hot sauce; plus more for serving (optional)
Peanut or vegetable oil (for frying; about 8 cups)
8 Brioche buns
3 tablespoons unsalted butter, softened
Kosher Dill Chips
4 Tablespoons Red Clay Hot Honey
4 teaspoons Red Clay Everything Spice Salt
Instructions
Cut Chicken Breasts in half to make 8 "Sandwich Bun-Sized" pieces. Mix salt, sugar, and baking powder in a small bowl. Season chicken all over with salt mixture to coat. Chill uncovered on a wire rack set inside a rimmed baking sheet, at least 2 hours and up to 1 day.
Whisk flour, cornstarch, garlic powder, onion powder, paprika, cayenne, and 2 Tbsp. salt in a medium bowl. Whisk egg, buttermilk, and 3 Tbsp. Red Clay hot sauce in another medium bowl. Working with 1 piece at a time, dredge chicken in flour mixture, turning to coat and packing into crevices. Shake to remove excess; return to rack. Pour 3 Tbsp. buttermilk mixture into flour mixture and work in with your fingers. Dip chicken into remaining buttermilk mixture, allow excess to drip off, then pack moistened flour mixture firmly onto chicken. Gently shake off excess; return to rack. Chill at least 30 minutes and up to 12 hours.
Set your oven on broil. Gently spread each Bun TOP (we will get to the bottoms later, for now set them aside) with soft butter and generously sprinkle with Red Clay Everything Spice Salt. Set on a sheet tray and broil until butter is slightly browned and Spice Salt sticks to the surface. Set aside.
Pour oil into a large heavy pot fitted with thermometer to come halfway up sides. Heat over medium-high until thermometer registers 350°. Working in 4 batches, fry chicken, turning often and adjusting heat to maintain temperature, until deep golden brown, 5–8 minutes per batch. Transfer to a wire rack set over paper towels to drain. Chicken should be 163 degrees. If yours aren't quite up to the desired internal temp once the outside is golden brown, put them in the oven on 350 degrees until they come up to the right temperarture.
Heat a dry large skillet, preferably cast iron, over medium. Brush cut sides of buns with butter and, working in batches, cook, cut side down, until deep golden brown, about 2 minutes per batch.
Drizzle each Chicken Breast with Red Clay Hot Honey, spread plain Mayo on the bottom bun and add pickles. Set the Chicken on top and serve with more Red Clay Hot sauce!