Roasted Chickpea Salad with Hot Honey Vinaigrette
Posted In: Recipes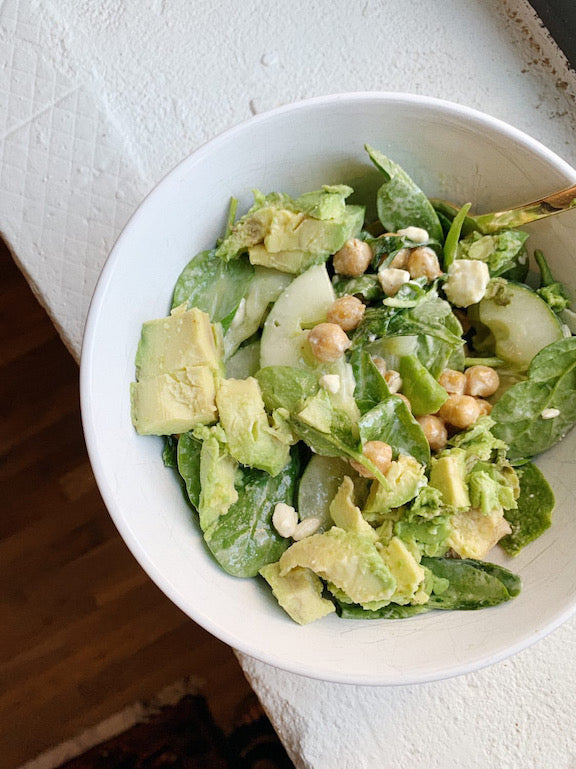 Ingredients
Roasted Chickpeas
1 can chickpeas, drained and rinsed
2 tbsp extra virgin olive oil
1 tsp salt
Hot Honey Vinaigrette
¼ cup extra virgin olive oil
3 tbsp Red Clay Hot Honey
2 tbsp Tahini
2 tbsp Dijon mustard
1 tbsp apple cider vinegar
squeeze of lemon juice
½ tsp salt and pepper (or to taste)
Roasted Chickpea Salad with Hot Honey Vinaigrette
½ roasted chickpeas
2 cups arugula blend
1 oz feta cheese
½ cup sliced cucumber
2 tbsp Hot Honey Vinaigrette
1 tsp salt
Option: roasted chicken or cauliflower
You can never go wrong with a salad that includes chickpeas and avocado. When you add Honey Honey, the game is forever changed. Our friend Olivia Dello made herself a wonderful lunch that we just had to share. This one is good for any time of the day, any time of the year. We just love a reason to add more Hot Honey! Thanks for this one, Olivia. 
Ingredients
Roasted Chickpeas
1 can chickpeas, drained and rinsed
2 tbsp extra virgin olive oil
1 tsp salt
Hot Honey Vinaigrette
¼ cup extra virgin olive oil
3 tbsp Red Clay Hot Honey
2 tbsp Tahini
2 tbsp Dijon mustard
1 tbsp apple cider vinegar
squeeze of lemon juice
½ tsp salt and pepper (or to taste)
Roasted Chickpea Salad with Hot Honey Vinaigrette
½ roasted chickpeas
2 cups arugula blend
1 oz feta cheese
½ cup sliced cucumber
2 tbsp Hot Honey Vinaigrette
1 tsp salt
Option: roasted chicken or cauliflower
Instructions
Preheat oven to 400 degrees. Drain and rinse cheapicks, pat dry. In a large bowl, mix oil and chickpeas until well coated. Add salt to taste. Place in a single later on a parchment-lined baking sheet and roasted for 30 minutes or until brown and crispy.
Mix all ingredients together in a blender or sealed jar until creamy
Add all ingredients to a bowl, min in dressing. Enjoy!