Southern-Style Crab Rice
Posted In: Recipes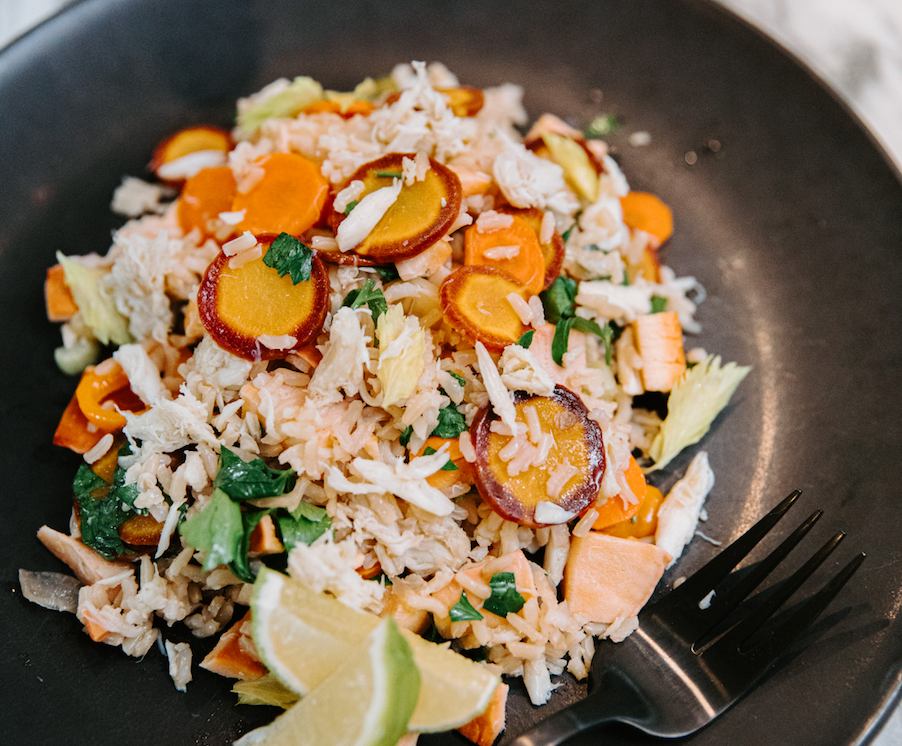 Ingredients
8 Tbsp butter, diced
1 shallot, thinly sliced
1/2 cups carrots, peeled and cut into coins
1/2 cups celery, cut into small half moons
1/2 cup mushrooms, diced (hen of the woods, oyster, or shiitake)
1/2 cup small sweet peppers, cut into rings
1 serrano chile, sliced
1 quart cooked brown rice
1 cup chicken or shellfish stock
1/2 cup fresh blue crab
Salt & pepper to taste
A few generous dashes Red Clay Carolina Hot Sauce
Fresh blue crab shines in this easy, yet impressive weeknight dish. While you can't go wrong with the addition of classic mirepoix, you could truly throw in "everything but the kitchen sink" (meaning any leftover veggies in your fridge) here. Top it off with your favorite hot sauce—we recommend our Carolina.
Ingredients
8 Tbsp butter, diced
1 shallot, thinly sliced
1/2 cups carrots, peeled and cut into coins
1/2 cups celery, cut into small half moons
1/2 cup mushrooms, diced (hen of the woods, oyster, or shiitake)
1/2 cup small sweet peppers, cut into rings
1 serrano chile, sliced
1 quart cooked brown rice
1 cup chicken or shellfish stock
1/2 cup fresh blue crab
Salt & pepper to taste
A few generous dashes Red Clay Carolina Hot Sauce
Instructions
In a pan, sweat shallot, carrots, and celery in 4 tbsp. butter over low heat until tender.
Add mushrooms and peppers and cook for 3-5 more minutes.
Add rice, stock, and salt, warm through, then swirl in remaining butter until melted. Gently fold in crab.
To finish, add herbs (such as parsley, celery leaves, etc) and your favorite Red Clay Hot Sauce (we recommend our Carolina Hot Sauce.
Serve immediately and enjoy!