Country Ham and Cheese Balls
Posted In: Recipes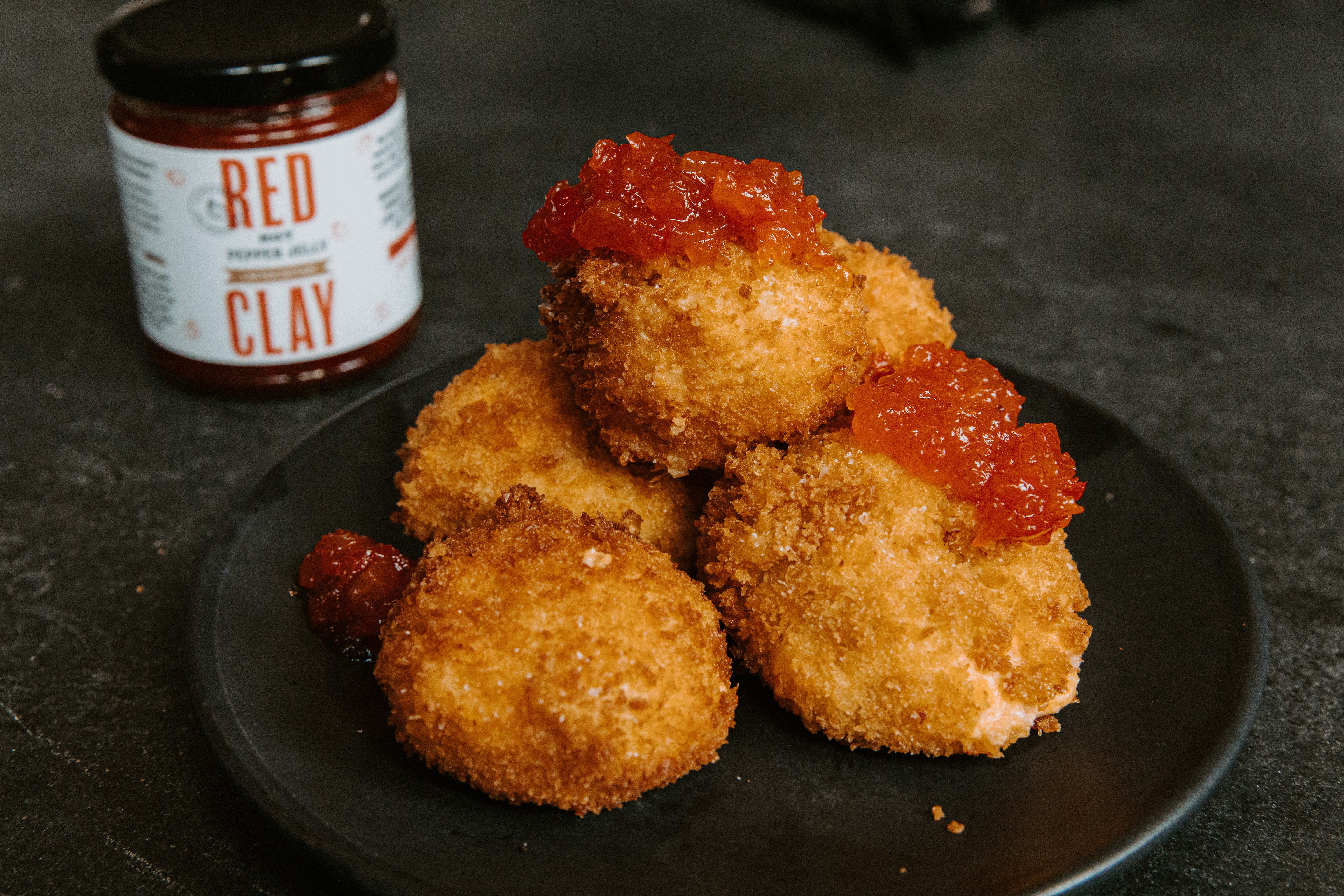 Ingredients
3/4 cup cream cheese
3/4 cup Duke's mayo
1 1/2 cups shredded cheddar cheese
6 tablespoons Red Clay Carolina Hot Sauce
1 teaspoon Red Clay Charleston Bay Seasoning
4 tablespoons country ham diced
Vegetable oil for frying
Breading: seasoned flour (salt & pepper), egg wash, panko bread crumbs
Inspired by our Chef's friend, Joe Trull of Grits & Groceries, this recipe is one to impress when hosting or craving a Lowcountry appetizer at home! And don't forget to top it with our new Hot Pepper Jelly.
Ingredients
3/4 cup cream cheese
3/4 cup Duke's mayo
1 1/2 cups shredded cheddar cheese
6 tablespoons Red Clay Carolina Hot Sauce
1 teaspoon Red Clay Charleston Bay Seasoning
4 tablespoons country ham diced
Vegetable oil for frying
Breading: seasoned flour (salt & pepper), egg wash, panko bread crumbs
Instructions
In a food processor, buzz the cream cheese until smooth. Add in Duke's, Red Clay Charleston Bay, Red Clay Carolina Hot, and buzz to incorporate fully. Fold in shredded cheddar and country ham. Chill for at least 30 minutes.
Prepare your bread station: Whisk 2-3 eggs in a bowl, set aside. Place 2 cups of flour into a bowl and mix in some salt and pepper, set aside. Add 2 cups of panko to a bowl, set aside.
Using a portion scoop, make balls and then bread with the flour-egg wash-panko system.
Heat oil in a pot to 350 degrees—enough oil to fully cover each ball. With a slotted spoon, lower each ball into the oil.
Fry until golden brown. Once finished, scoop out with the slotted spoon. Serve alongside Red Clay Hot Pepper Jelly.