Twice-Baked Sweet Potatoes
Posted In: Recipes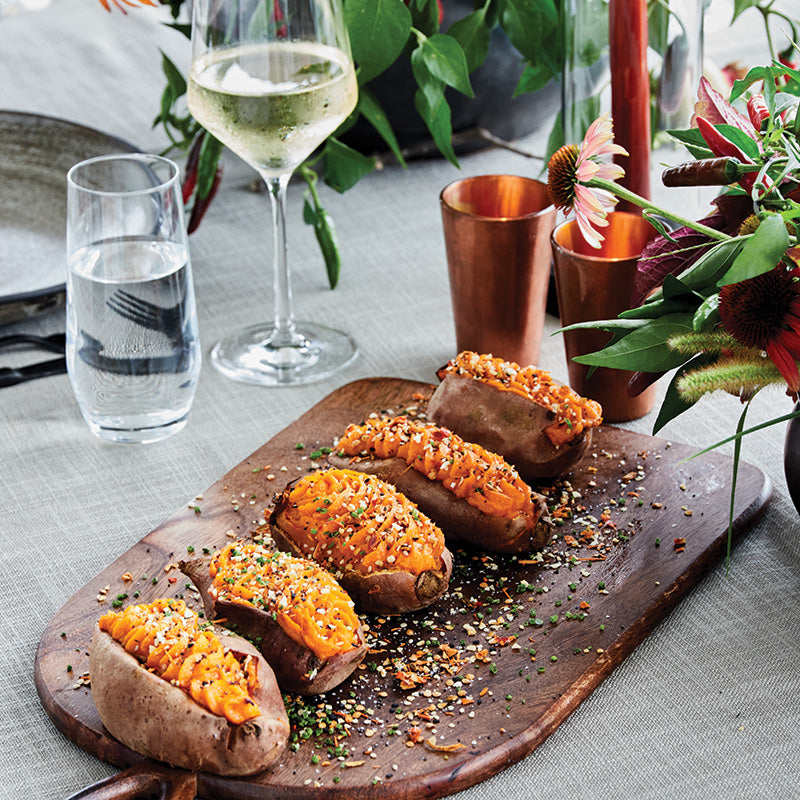 Ingredients
4 sweet potatoes, about 3/4 lb. each
1/2 lb. unsalted butter, softened
1/4 cup Red Clay Hot Honey
2 Tbs. minced chives
Red Clay Spicy Everything, optional, available in 2021
Now this recipe is so good I could eat it for dinner every night (or lunch... or a snack). The buttery flavor and our Hot Honey mixed in with the famous sweet potato is destined to please everyone.
Ingredients
4 sweet potatoes, about 3/4 lb. each
1/2 lb. unsalted butter, softened
1/4 cup Red Clay Hot Honey
2 Tbs. minced chives
Red Clay Spicy Everything, optional, available in 2021
Instructions
Preheat an oven to 350°F. Place the sweet potatoes on a baking sheet and bake for 45 to 55 minutes, or until easily pierced with a fork.
Set aside until cool enough to handle. While still warm, slice them open and scoop out the flesh.
Place the flesh in a stand mixer with the whip attachment, add the butter and honey, and whip until incorporated.
Stuff the mixture back into the sweet potato jackets and bake for six to eight minutes, or until hot through.
Transfer to a serving platter, sprinkle with chives and Red Clay Spicy Everything, and serve.
Recipe for Charleston Magazine, "A Saucy Celebration with Red Clay Hot Sauce." Photography by Peter Frank Edwards.