Cauliflower Steak with Roasted Mushrooms
Posted In: Recipes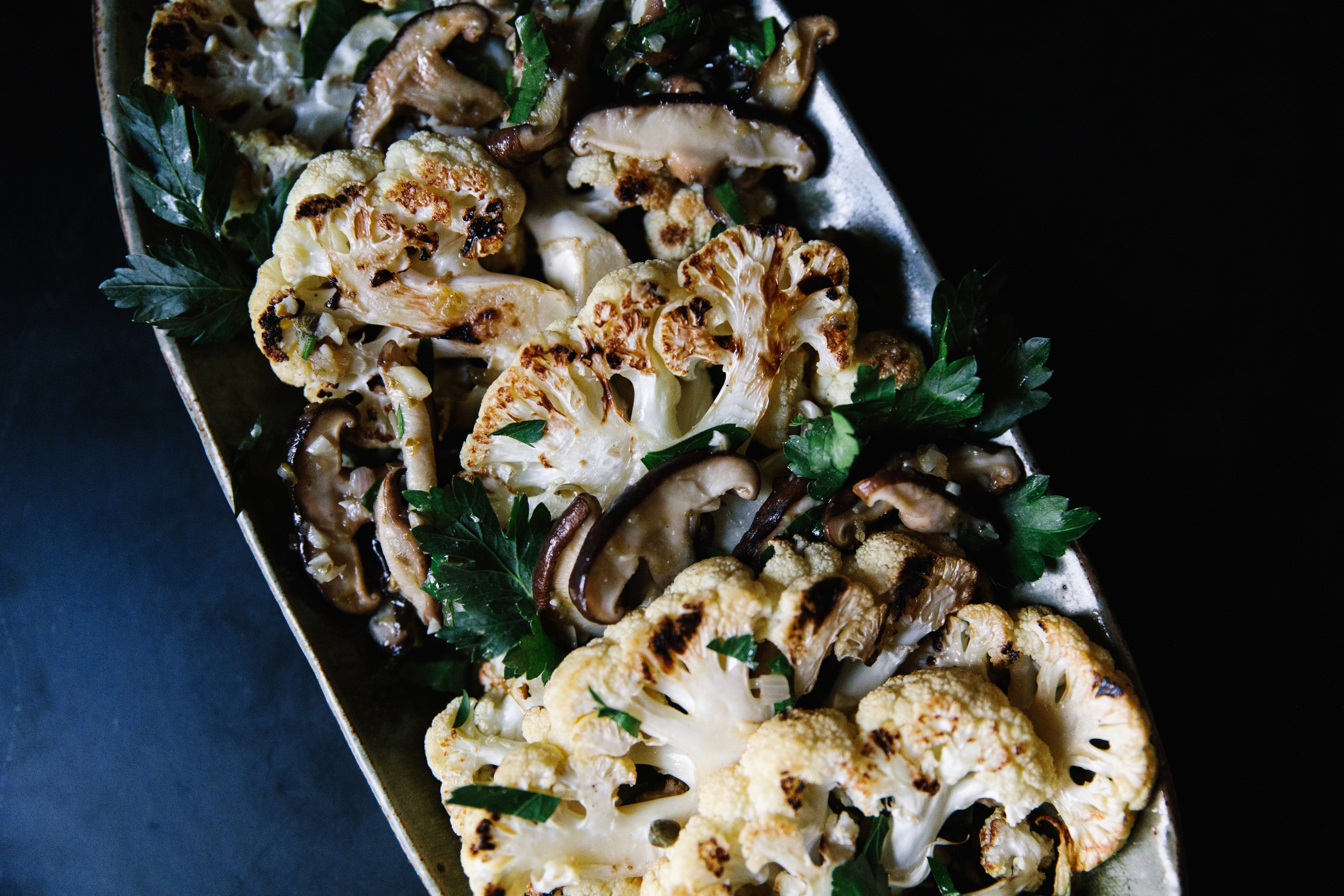 Ingredients
2 heads cauliflower (personal favorite is Romanesco!)
6-10 oz Hen of the Woods mushrooms
T Italian flat leaf parsley, chiffonade
1 T Capers
1 whole shallot, peeled and small diced
6-8 cloves of garlic, minced
3 oz olive oil
2 oz Red Clay Verde or Original sauce
TT Kosher salt
When it comes to something light yet filling and full of nutrients, we suggest cauliflower and mushrooms- not just any mushrooms, but roasted Hen of the Woods mushrooms. The dashes of Red Clay really do make this meal great. 
Ingredients
2 heads cauliflower (personal favorite is Romanesco!)
6-10 oz Hen of the Woods mushrooms
T Italian flat leaf parsley, chiffonade
1 T Capers
1 whole shallot, peeled and small diced
6-8 cloves of garlic, minced
3 oz olive oil
2 oz Red Clay Verde or Original sauce
TT Kosher salt
Instructions
Heat oven to 375.
Clean the leaves off the cauliflower and cut cross-sections roughly 1" thick (save any bits that fall to the side and cut down to the size of your pinky fingernail!).
Using 1 oz of oil, oil a parchment lined pan and place the "steaks" down and sprinkle some salt.
Cover the pan with foil and bake for 18-20 minutes until al dente.
Remove from oven and place on paper towels.
Clean the mushrooms into 2-3" pieces, keeping the natural shape and stem attached.
In a large pan and working in batches, sear the cauliflower steaks in oil until golden brown on both sides. Arrange on a platter in shingled fashion.
Once completed, cook the mushrooms in the same pan for 2-3 minutes. Add minced garlic, shallots, and capers and stir while cooking. Finish with Verde and fresh parsley.